OJDDA Training
2017 Training Costs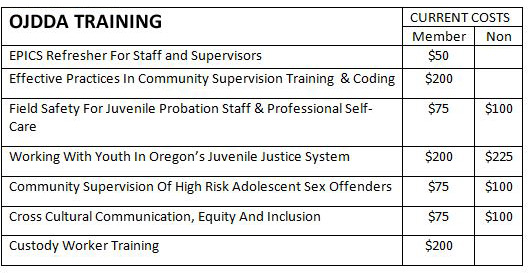 Courses
For further information or inquiries, please contact OJDDA at: training@ojdda.org.
Working with Youth in Oregon's Juvenile Justice System:
This 32-hour introductory course is designed for Juvenile Justice probation workers/court counselors who are in their first year of employment. The topics are designed to give participants a general overview of the basic skills utilized in the day-to-day operations of Juvenile Justice. The presentations will provide an opportunity for learning through lecture, discussion, and demonstration, following evidence-based best practices and cultural awareness. This course is also an opportunity to network with other probation workers/court counselors from around the state.
Community Supervision of High Risk Adolescent Sex Offenders - JSOAP
Field Safety for Juvenile Probation Staff & Professional Self-Care
Effective Practices in Community Supervision Training
Cross Cultural Communication, Equity and Inclusion
Custody Worker Training
Certification form that will need to be filled out by a director or supervisor from the county requesting certification. Once completed, send the form to ​training@ojdda.org.
Training Committee
Chair: Sonya Littledeer-Evans, Deschutes County
Joe Ferguson, Jackson County
Jay Trost, Curry County
Stacia Tyacke, Columbia County
Mandy Decker, Wallowa County
Debbie Martin, OYA
Hillary Williams, Deschutes Co.
Julie Bitz, Clackamas Co.
Josh Byrum, Lane Co.
Rich Robison, Polk Co.
Mike Miller, Marion Co.
John Lynch, Yamhill Co.
Heather Phillips, Lincoln Co.
Craig Bachman, Multnomah Co.
Jay Trost, Curry Co.
Charmaine Roberts, Deschutes Co.
Mandy Decker, Wallowa Co.
Scott Paasch, Yamhill Co.
Dan Carr, Douglas Co.
Sonya Littledeer-Evans, Deschutes Co.
Jean Nicholas, Jackson Co.
Debbie Martin, OYA
Rachael Holley, Washington Co.
Email Your Training Questions to training@ojdda.org
Useful Links